Project Highlights
6.0 m channel sample grading 4.5% Li2O
7.0 m channel sample grading 3.3% Li2O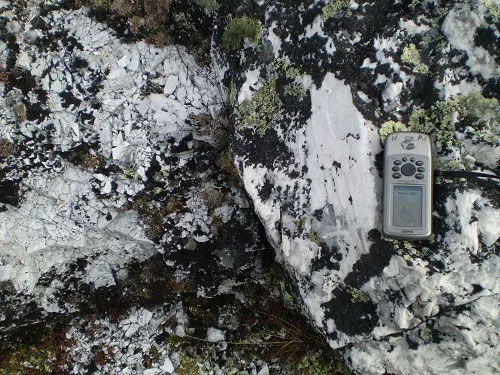 About the Torp Lake Lithium Project
The Torp Lake Lithium Project covers 1,003 ha and is located only 35km from tidewater in the north Slave region of Nunavut. The Torp Lake Lithium Project hosts the McAvoy lithium-rich pegmatite. The project was acquired from North Arrow Minerals Inc. in 2016.
Past channel sampling work on this spodumene bearing pegmatite has returned 6.0 m grading 4.5% Li2O and 7.0 m grading 3.3% Li2O. The channels were located 78 m apart and orientated perpendicular to the north-south strike of the pegmatite.
Lithium is contained in the mineral spodumene, high concentrations of which are observable within the McAvoy lithium pegmatite over a 110m strike length with widths of 10m to 15m.
Mineralogical analysis, completed by SGS Canada Inc., of a composite sample indicated excellent liberation of spodumene (99%) and microprobe analysis confirmed the spodumene is exceptionally pure and clean of major elements, particularly iron and manganese.
The McAvoy pegmatite is a potential source of premium-priced rare technical grade spodumene.
In late 2017, the Torp Lithium Project was independently surveyed and was subsequently taken to lease with the Crown, the effect of which was the granting of a 21-year lease term (subject to annual rent payments), with further renewal right thereafter.
Never Miss An Update
Subscribe to our mailing list to receive news releases and other materials related to Dixie Gold Inc.