Project Highlights
Big Bird Lithium Pegmatite - 1,280 m strike length, 1.24% Li2O over 34.3 m
Curlew Lithium Pegmatite - 400 m strike length, 1.72% over 14.87 m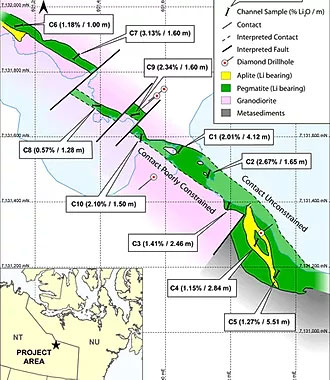 About the Phoenix Lithium Project
The Phoenix Lithium Project is located in Canada's Northwest Territories, approximately 70km southeast of the Diavik Diamond Mine and less than 60 km from existing winter road infrastructure.
The Phoenix Lithium Project hosts the Big Bird and Curlew lithium-rich pegmatites.
Big Bird Lithium Pegmatite
The Big Bird lithium pegmatite has been mapped over a 1,280m strike length with observable outcrop widths ranging from 8m to greater than 80m. Past drilling at the Big Bird lithium pegmatite returned 1.24% Li2O over 34.3m.
Curlew Lithium Pegmatite
The Curlew lithium pegmatite has been mapped over a strike length of 400m with widths up to 20m. Past drilling at the Curlew lithium pegmatite returned 1.72% Li2O over 14.87m.
The significant lithium grades and widths returned from limited past drilling of the Big Bird and Curlew lithium pegmatites (both acquired by way of a transaction in 2016 with North Arrow Minerals Inc.) highlights the potential for the Phoenix Lithium Project to host a number of lithium rich spodumene pegmatites.
The Phoenix Lithium Project was further subject of a conceptual exploration target by third-party consultants to the Corporation in 2018, additional disclosure of which may be found in the Corporation's news release dated January 25, 2018 (see: https://www.dixiegold.ca/clean-commodities-corp.-announces-completion-of-modelling-at-phoenix-lithium-project).
In addition, in late 2017, significant portions of the Phoenix Lithium Project were independently surveyed and taken to lease with the Crown, the effect of which being that such area was granted a 21-year lease (subject to annual rent payments), with further renewal right thereafter.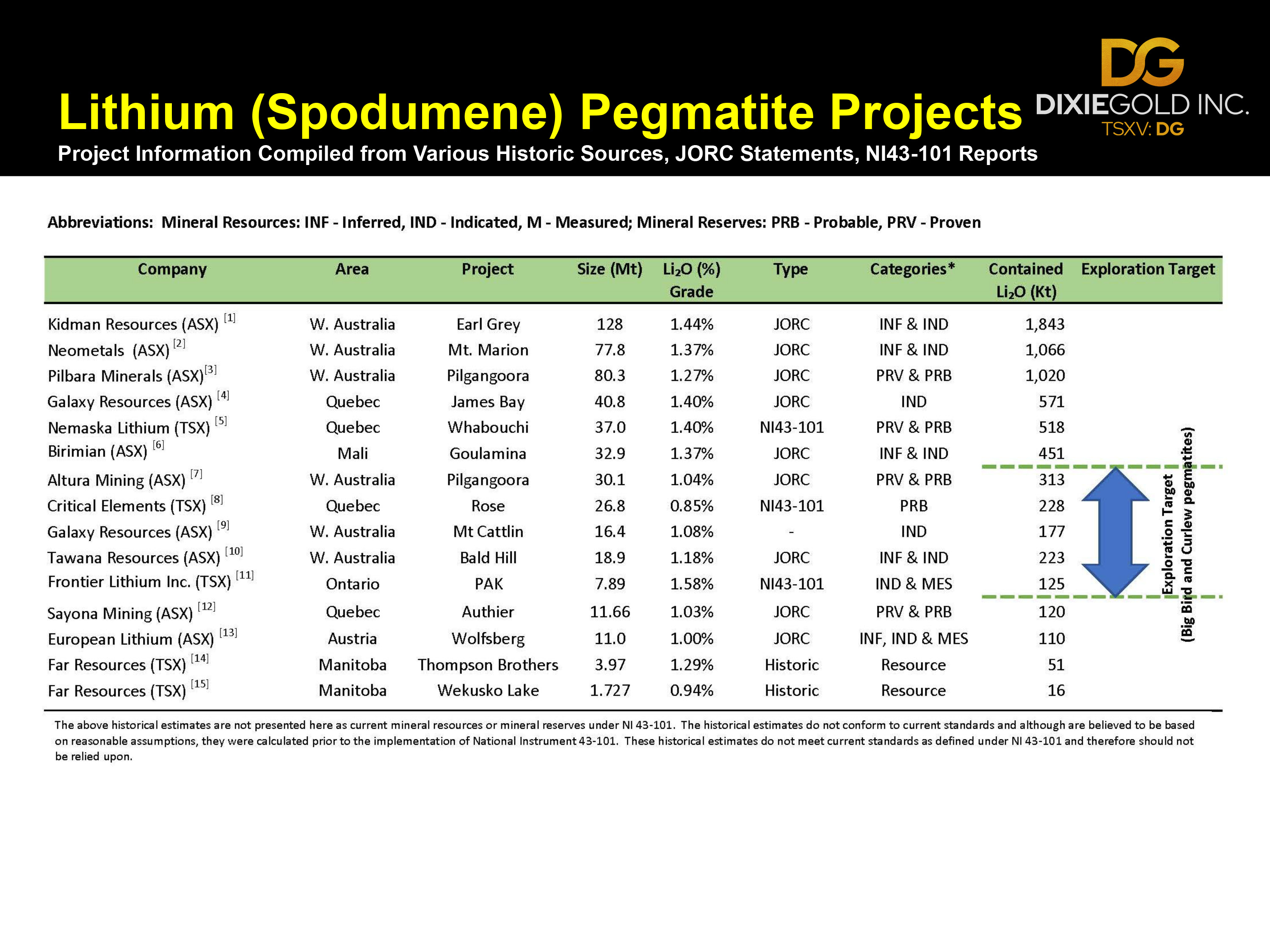 Never Miss An Update
Subscribe to our mailing list to receive news releases and other materials related to Dixie Gold Inc.